Sustainability Roadmap and Kick-Starter Impact Toolkit Planning for your company's business sustainability journey
Applicable from novice to leader in business sustainability, SME Sustainability Roadmap and Kick-Starter Impact Toolkit bridges the knowledge gap challenging these SMEs in advancing the sustainability agenda on their own. It supports SMEs' owners and senior management on the sustainability journey with the necessary knowledge and guidance.

>>> Click here to access the full version
In addition to the basic concept of business sustainability and the relevance to SMEs, the Toolkit comprises six enablers covering the following topics sequentially: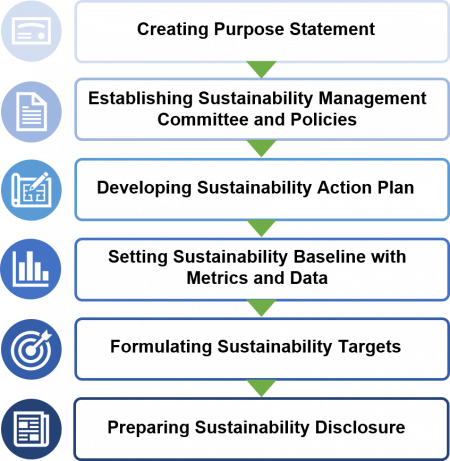 Each enabler provides practical guidance, templates and tasks to help promote business sustainability in these companies step by step. The tasks can be taken at three level of practice – leader, high performer and beginner. The project team encourages companies to refer to the result summary of the SME Sustainability Self-check Tool or Business Sustainability Maturity Rubrics in this Toolkit to choose the suitable tasks to complete. Some external references are also included for additional support. By adopting the Toolkit, companies will be able to put in place the structure and business process of sustainability management and improve transparency of sustainability disclosure.
You can access different parts of this Toolkit via these links: