---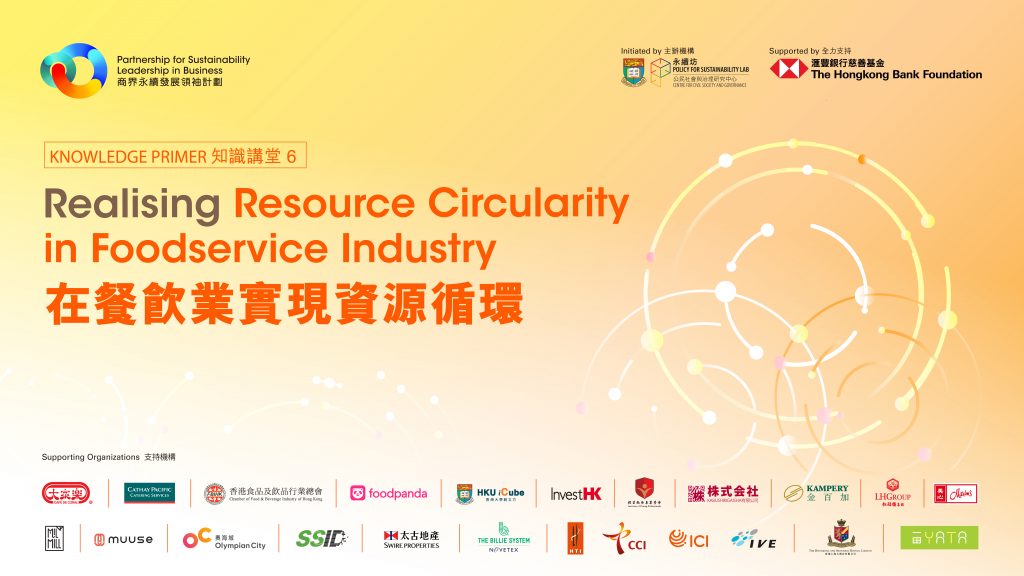 ---
Organized by the Centre for Civil Society and Governance (CCSG) of The University of Hong Kong (HKU), and fully supported by the Hongkong Bank Foundation, the sixth Knowledge Primer was successfully concluded on October 17, 2023.
This knowledge focused on the theme "Realising Resource Circularity in Foodservice Industry." With insights shared by the four speakers from diverse backgrounds, over 100 attendees learned about the importance of collaboration among the government, businesses, consumers, and culinary training institutes in realizing resource circularity within the local foodservice industry. Guided by Professor Wai-Fung Lam, the four speakers engaged in a meaningful discussion regarding their roles and potential synergies in driving circular transformation across the value chain of the industry.
This event also marked the release of the new book, "A Practical Guidebook to a Circular Economy – Collaborating with Value Chain Partners for a Resilient Business". Designed as a go-to self-study resource particularly for foodservice business owners and managers to grasp and act on the idea of resource circularity, this Guidebook emphasises intellectual access, practicality, value chain-based problem-solving, and local relevance. The guidebook highlights exemplary circularity projects and best practices for reference, and also provides standard-aligned step-by-step guidance and readily available templates to help the readers translate commitment into action.
---
To read more about 'A Practical Guidebook to a Circular Economy – Collaborating with Value Chain Partners for a Resilient Business': CLICK HERE
追蹤我們: