SMEs Sustainability Leadership Recognition Scheme 2022 – Practical Workshop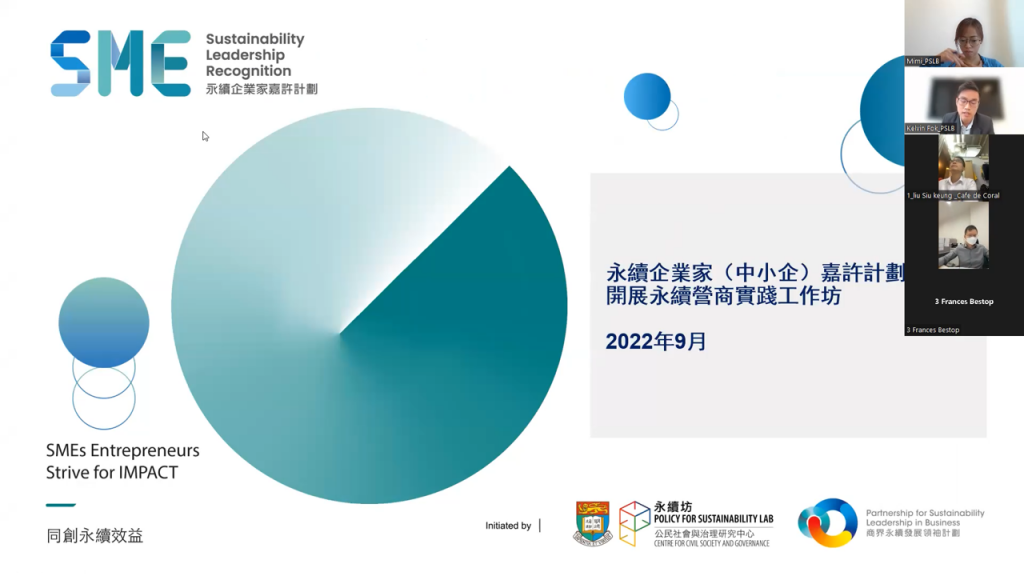 Participating Organisations are invited to attend our Practical Workshop as part of their company's journey in the SMEs Sustainability Leadership Recognition Scheme. They will learn about sustainable value chain management, the latest trends and common issues of business sustainability, circular economy principles and practices, as well as develop a sustainability roadmap and action plan in the Practical Workshop.
---
The schedule and format were as follows:
Date:
27 September (Tuesday)
Time:
14:30 – 16:30
Language:
Cantonese
Format:
Zoom Meeting
Corporate Guests:
Representatives from the following companies: Sino Group, A-1 Bakery, M Cinema, Oliver's Super Sandwiches, Cafe de Coral Group, LH Group, Bestop Technology Development Limited, On Kee (HK) Environmental Recycling Limited, New World Development Company Limited, Gaia Group, Waihong Services Group, Starbucks Coffee Asia Pacific Limited, Elkay Interior Systems Hong Kong Limited, YCH Group Private Limited, Revolv Limited
Rundown:
14:25 – Zoom Meeting Open for Entry
14:30 – Basics of Sustainable Value Chain (SVC) management; Current status and best practices; Roadmap and action plan briefing
15:30 – Basics of the circular economy; Housekeeping for SMEs Sustainability Leadership Recognition Scheme
16:25 – Q&A Session
16:30 – End
---
Join us now to co-create SVC in Hong Kong and the region!