Re-envisioning Business Sustainability with Innovation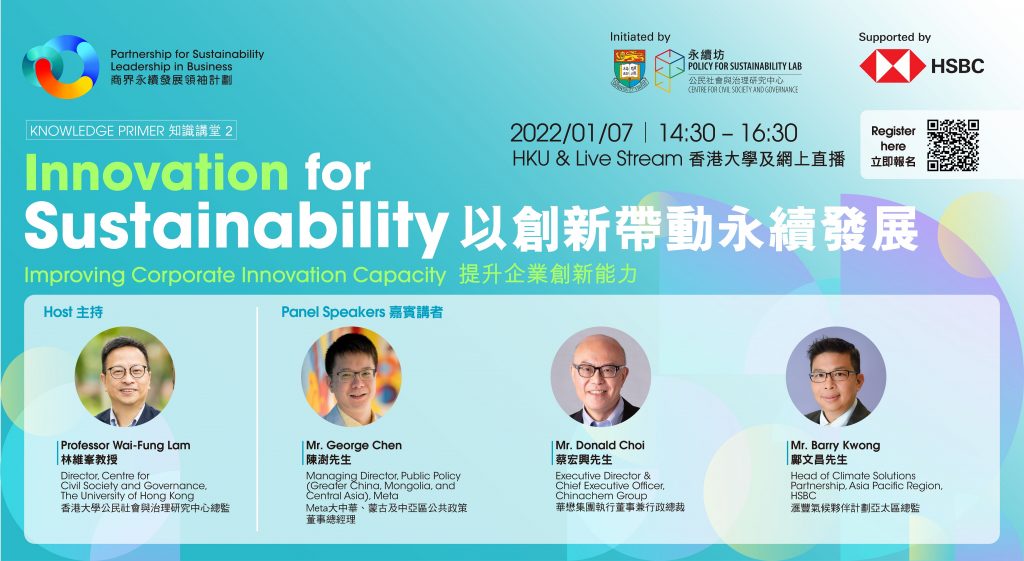 The Partnership for Sustainability Leadership in Business (PSLB) programme under the Centre for Civil Society and Governance (CCSG) of The University of Hong Kong (HKU) today organised its second Knowledge Primer (KP). Themed "Innovation for Sustainability – Improving Corporate Innovation Capacity", the event brought together around 270 sustainability experts and industry practitioners virtually to discuss the different approaches to building corporate innovation capacity for attaining sustainability goals.

The surge in attention to corporates' environmental, social and governance (ESG) performance and demand for corporate actions on environmental and social challenges calls for a shifting mindset from conceiving businesses as merely product and service providers in economic terms, to ones that create environmental and social values. When the conventional ways of doing business are deemed unsustainable to the society, building a company's innovative capacity is key to transit towards sustainability. This KP focuses on how new technologies, cross-sector partnership, business incubation and creative employee engagement etc. could improve the innovation capacity of companies to drive more sustainability solutions.
The three panel speakers, Mr. George Chen, Managing Director, Public Policy (Greater China, Mongolia, and Central Asia), Meta; Mr. Donald Choi, Executive Director & Chief Executive Officer, Chinachem Group; and Mr. Barry Kwong, Regional Head of Climate Solutions Partnership, Asia Pacific Region, HSBC, each delivered a presentation on "VR for Good: Leveraging new technologies to drive purposeful business and sustainability advocacy", "Innovation in business process and corporate culture to accelerate sustainability", and "Innovating climate solutions through collaborative partnerships" respectively. The event ended with a panel discussion on "Improving corporate innovation for sustainability".
---
---
(Event Highlights) Knowledge Primer 2: Innovation for Sustainability
---
Knowledge Primer 2: Innovation for Sustainability – Full Recording
Follow us: