Rethinking Sustainability for SMEs: Go Circular and Build Resilience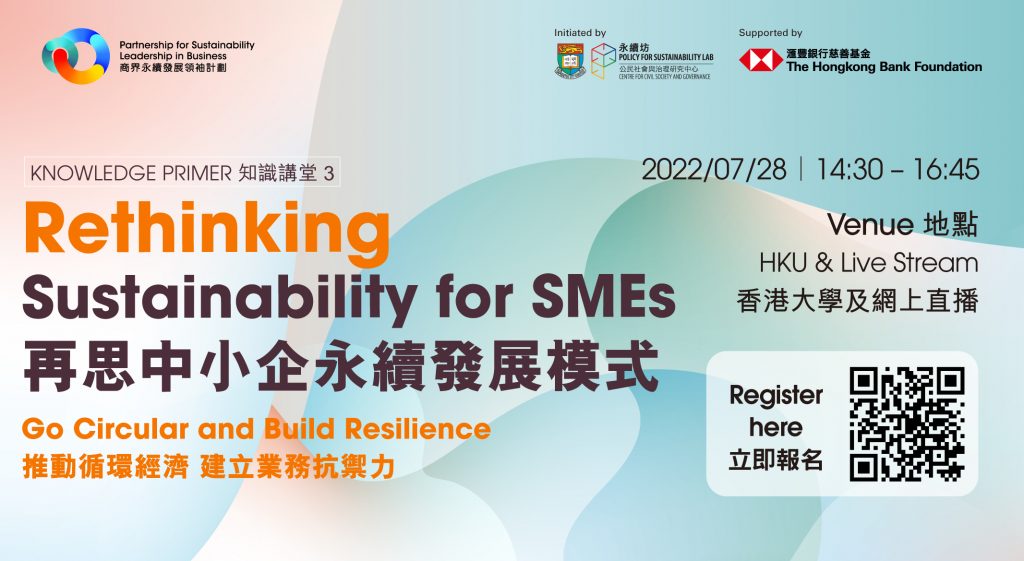 The Pandemic has certainly brought wide-ranging impacts to the businesses across industries and geographies—disruptions in the logistics along the supply chains; fluctuating energy prices; and also changing lifestyles of employees and customers. These factors have pushed all sectors to adapt and reconfigure their business strategies and operational models. While businesses are gradually moving into recovery cycle, stakeholders have got to get prepared for future challenges, may it be new waves of COVID-19 or transitions driven by global climate change. Businesses ought to build resilience by rethinking the risks and impacts brought by the conventional linear economy, and how they can capitalize on the opportunities that arise from a circular economy model to attain sustainability for the company and the wider society.
The organizer released findings from the 'Diagnostic Study for SME Sustainability Survey' at the event, which aims to provide a landscape analysis of the uptake of sustainability by Hong Kong SMEs and identify their pain points. It then followed by the award ceremony of the SVC Commitment and SMEs Sustainability Leadership Recognition Schemes Cohort 2021 (The Scheme), for recognizing the support received from the participating corporates and SMEs. Lastly, details of Cohort 2022 of the Scheme was announced with an official call for applications.
To access the 'Diagnostic Study for SME Sustainability Survey' full report: CLICK HERE
For event photos: CLICK HERE
(Full Recording) Knowledge Primer 3: Rethinking Sustainability for SMEs (July 28, 2022):