Collaboration for Driving Circular Economy in the Food & Beverage Industry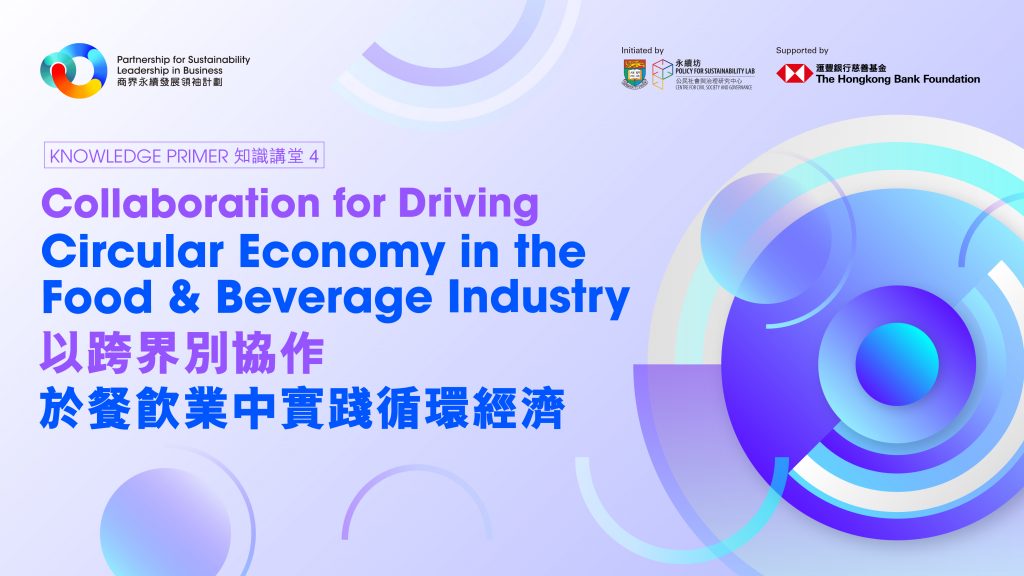 You are cordially invited to the fourth Knowledge Primer (KP4) titled "Collaboration for Circular Economy in the Food & Beverage Industry" under the Partnership for Sustainability Leadership in Business (PSLB), initiated by the Centre for Civil Society and Governance (CCSG) of The University of Hong Kong.
Seemingly efficient and convenient, the "take-make-consume-dispose" linear economy that we rely upon is taking a toll on our environment and society. This is especially evident in the resource-hungry and waste-intensive food and beverage (F&B) industry which caters for everyone's daily needs and gastronomic desires. Reengineering the F&B value chains with the ideas of circular economy presents promising ways to design out waste and drive systemic change for sustainable development. It essentially relies on close collaborations between the F&B businesses and different value chain partners to put circularity into practice.
This Knowledge Primer will shed light on the approaches to embedding circularity into F&B businesses for enhancing resilience. The KP includes keynote speeches surrounding the concept of circular economy for sustainability and business resilience, and real-life experience of putting the idea into practice in the hospitality industry's context, as well as a panel discussion where distinguished and seasoned professionals will exchange views on the current progress, challenges, new developments and innovations needed for driving circular economy and sustainability in the F&B industry.
To access the event press release: Click here
To access the event photos: Click here