Sustainability Hackathon 2020
永續發展實驗坊2020 [中文版]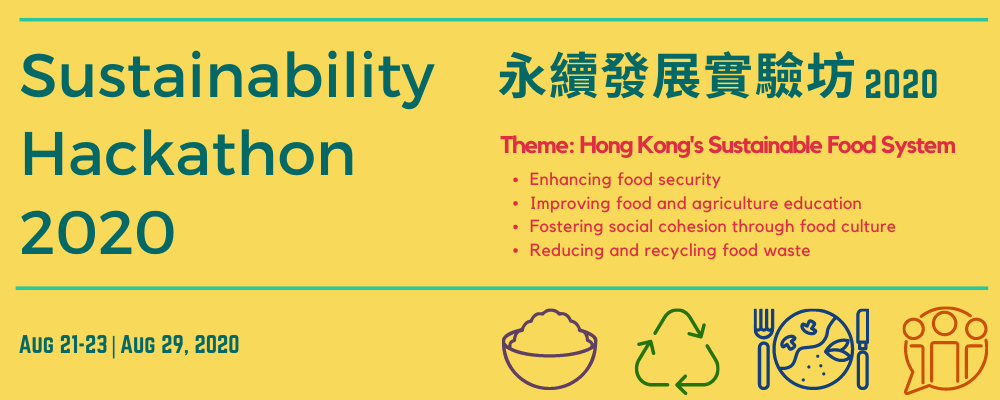 The Policy for Sustainability Lab of the Centre for Civil Society and Governance at The University of Hong Kong is pleased to launch its second Sustainability Hackathon in August 2020. It is a 4-day community incubation event to bring together a diverse range of community stakeholders to generate innovative ideas for improving rural-urban interactions in Hong Kong. Participants will propose innovative action plans, business models or product prototypes to solve real challenges in Hong Kong's food system. Selected teams will be invited to pitch for the awards.
Theme
Hong Kong's Sustainable Food System
Enhancing food security
Raising food literacy
Fostering social cohesion through food culture
Reducing and recycling food waste
Judging Criteria
Innovativeness of the idea
Contributions to food system sustainability
Viability of solution
Prizes and Rewards
Champion, first runner up and second runner up will receive a cash prize of HK$10,000, HK$5,000 and HK$3,000 respectively together with an invitation to apply further seed grant from the Rural Start-up Scheme for prototyping and testing.
All participants will receive a certificate of participation and become eligible to applying for the Rural Start-up Fund which is now accepting applications.
* The Hackathon will be conducted mainly in Cantonese and is Free of Charge!
Download, fill out and submit the application form to ruralsd@hku.hk by August 14, 2020.
You may apply individually or as a group of maximum 5 persons. Participants must be aged 18 or above. Priority will be given to fellows of the Academy for Sustainable Communities.
Programme Details
Day 1
Date:

August 21, 2020 (Friday)

Time:

7:00pm to 9:00pm (virtual participation)

Contents:

Introduction to the programme (in Cantonese) and sustainable food system (in English)

Speakers:

Ms Katie CHICK
Senior Project Manager, Centre for Civil Society and Governance, HKU
Ms Heidi SPURRELL
CEO, Food Made Good - Hong Kong
Day 2
Date:

August 22, 2020 (Saturday)

Time:

9:00am to 6:00pm (virtual participation)

Contents:

Team formation, ignite talks on food; teams will also participate in various activities to go through the design thinking steps and generate innovative proposals

Speakers:

Ms CHAN Sum Wai, Joey
Assistant General Manager – Social Enterprises, New Life Psychiatric Rehabilitation Association
Mr Kenny TSO
Owner of New Age Organic Farm
Mr Jack PONG
Third generation sauce maker at Yuet Wo
Mr Joseph CHEUNG
Founder of Perfume Trees Gin
Mr WONG Yu Wing
Owner of Au Law Organic Farm
Day 3
Date:

August 23, 2020 (Sunday)

Time:

9:00am to 23:59pm

Contents:

Participating teams upload their proposals to an online platform and response to comments given by other teams and the organiser. Each team votes for three best proposals. The organiser will also evaluate all the proposals.

Determined by (1) number of votes received and (2) the evaluation from the organiser, each accounting for 50% of the total score, a maximum of eight finalist teams will be selected to enter the final pitching of the competition.
Day 4
Date:

August 29, 2020 (Saturday)

Time:

2:00pm to 6:00pm

Venue:

11/F, The Jockey Club Tower, Centennial Campus, HKU

Contents:

Pitching and announcement of winners

Judges:

Professor Wai-fung LAM
Director, Centre for Civil Society and Governance, HKU
Mr Barry KWONG
Regional Head of Sustainable Networks and Entrepreneurship, Corporate Sustainability, Asia Pacific, HSBC
Mr YIP Tsz Shing
Convener of Agrivengers
Ms Zoe LEE
Associate Chief Executive Officer, Food Angel
Mr Edwin LEE
Founder of Coffee Power Championship Association
Enquiry
ruralsd@hku.hk / 3917 4768 (Ms. Jass WU)