Sustainability Hackathon 2019
永續發展實驗坊2019 [中文版]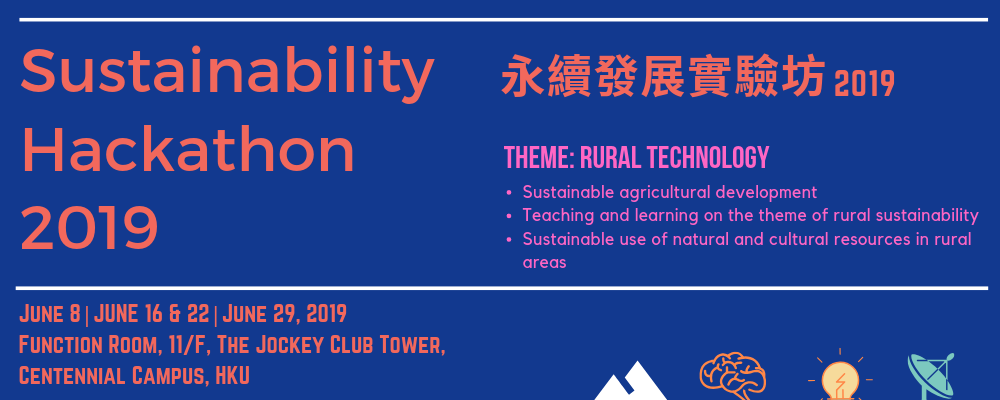 The Policy for Sustainability Lab is proud to present its first sustainability hackathon to be held in June 2019. It is a 3-day community incubation event to bring together a diverse range of community stakeholders to generate innovative ideas for the betterment of rural areas in Hong Kong. Participants will propose innovative action plans, social models or product prototypes to solve real challenges in rural areas. By the end of the hackathon, the participants will pitch to a panel of judges followed by a Q&A session with the judging panel and other audience.
Partner Villages

Lai Chi Wo
Mui Tsz Lam
Pokfulam Village
Tai Kong Po

Theme

Rural technology for

Sustainable agricultural development
Teaching and learning on the theme of rural sustainability
Sustainable use of natural and cultural resources in rural areas
Judging Criteria
Innovativeness of the idea
Impact for rural sustainability
Viability of solution
Prizes and Rewards
Champion, first runner up and second runner up will receive a cash prize of HK$10,000, HK$5,000 and HK$3,000 respectively together with an invitation to apply further seed grant from the Rural Start-up Scheme for prototyping and testing.
All participants will receive a certificate of participation and may consider applying for the Rural Start-up Fund which will be open for application in August 2019.
* The Hackathon will be conducted in Cantonese and is Free of Charge!
You may apply individually or as a group of maximum 5 persons. Participants must be aged 18 or above. Priority will be given to fellows of the Academy for Sustainable Communities.
Programme Details
Day 1
Date:
June 8, 2019 (Saturday)
Time:
9:30am to 6:00pm (lunch provided)
Venue:
Function Room, 11/F, The Jockey Club Tower, Centennial Campus, HKU
Contents:
Competition briefing, design thinking concepts, inspirational short talks, team formation

Facilitator:

Mr Joseph CHAN
Programme Lead of Entrepreneurship, Design and Innovation
Senior Lecturer in Innovation and Information Management
The University of Hong Kong

Speakers:

Dr Winnie LAW
Associate Director & Principal Lecturer, Centre for Civil Society and Governance, HKU
Mr CHAN Yiu Hung
Managing Director of Hong Kong Cultural Imaging Workshop
Mr Charles CHOW
Political and Government Outreach Manager (Hong Kong and Taiwan), Facebook
Mr Stephen KO
Intellectual Property Manager, Technology Transfer Office, HKU
Mr YIP Tsz Shing
Convener of Agrivengers
Ms Lynn YAU
Chief Executive Officer of The Absolutely Fabulous Theatre Connection
Day 2
Date:
June 16, 2019 (Sunday) / June 22, 2019 (Saturday)
Venue & contents:
Participating teams will have consultation sessions with village consultants at a time and venue suitable for both parties

Village Consultants:

Mr Nigel KO
Founder and Vice Chairman of Pokfulam Village Cultural Landscape Conservation Group
Mr TSANG Yuk On
Mui Tsz Lam Village Representative
Ms Katie CHICK
Senior Project Manager, Policy for Sustainability Lab, Centre for Civil Society and Governance, HKU
Representative of Land Education Foundation
Day 3
Date:
June 29, 2019 (Saturday)
Time:
2pm to 6pm
Venue:
Function Room, 11/F, The Jockey Club Tower, Centennial Campus, HKU
Contents:
Pitching and announcement of winners

Judges:

Professor Wai-fung LAM
Director, Centre for Civil Society and Governance, HKU
Dr IP Wai Cheung
Advisor of Heung Yee Kuk New Territories
Dr Benjamin YIU
Director of Hong Kong Architecture Centre
Mr Barry KWONG
Regional Head of Sustainable Networks and Entrepreneurship, Corporate Sustainability, Asia Pacific, HSBC
Mr YIP Tsz Shing
Convener of Agrivengers
Enquiry
3917 4768 / ruralsd@hku.hk