Murmur of the Brick – Rurally Engaged Art
An Art Installation project in Lai Chi Wo, celebrating the Art and Culture of Hong Kong's own Hakka Heritage
Murmur of the Brick – Rurally Engaged Art Installation Project makes use of mud, hay, earth, adobe brick to transform an old village house into an interactive art installation to inherit the almost forgotten stories and songs of Lai Chi Wo Village. The art installation would also make use of traditional and innovative hand-woven fabric as a medium to drive audience's contemplation to Hakka culture, vernacular aesthetics, traditional crafts and the values of rural villages in the contemporary society.
With a view to developing a long term sustainable and communing art participatory project, the artists team wishes to develop an equal and interactive platform with local communities to re-examine the cultural significance of the past generations through an art-led participation process. The project would last for a year which include activities such as oral history interview and documentation, desktop research, collection of Hakka songs as well as various workshops on adobe brick, Hakka hand-woven ribbon belt and farm revitalisation.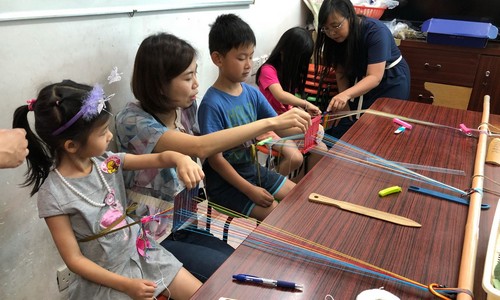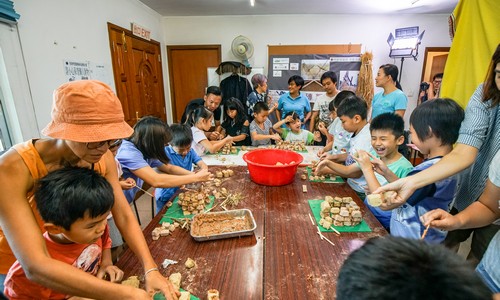 Project Team:
Project Proponent: Art for All
Art for All is a non-profit Community Art Charitable Organization established in 2001 which aims at assisting socially underprivileged people - including those who are (publicly) deprived of the opportunities to encounter arts due to different social, economic or physical limitations. Art for All continues to facilitate the targeted audience groups to recognise and stimulate their creative potentials, to develop their confidence, and to encourage their integration towards the public community.
Partner Organisation: Caritas Lung Yeuk Tau Community Development Scheme
Artists Team: The team consists of four multidiscipline artists, Evelyna Liang, Monti Wai-yi Lai, Eric Man-kei Ng and Wong Wing Fung. They have expertise in different art forms including music, drama, sound, painting, community arts and environmental art.
Technical Team: Members include Carpenter Mr Woody Leung, architect Ms Rosa Chan, and administrative supporter Mr Jerry Yu